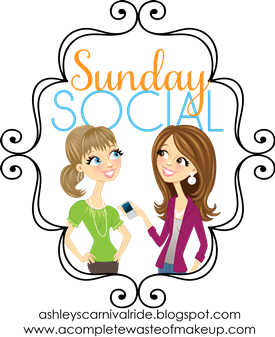 Hey Everyone! Happy First day of July. Hope everyone is having a great weekend and is staying cool with the heat most of the US is having to deal with! This Sunday I am linking up with
http://www.acompletewasteofmakeup.com/
for her Sunday Social. This week she asked fashion questions. And of course like most girls I love looking at all the magazines and run-way shows and thinking 1) I wish I could look that good in a dress like that 2) I wonder how much that dress/outfit cost and maybe one day I will be able to afford it!!
What is your favorite store to shop at?
Either Macy's and or Belk (southern simple style)
I like to think of myself as pretty down to earth when it comes to my style. I work with all men so out work dress code is pretty low key. On the weekends I like to try ad dress it up a little more then some people in my area. But do not get me wrong, if Bryan and I are just hanging out at the house a good pair of jeans and a t-shirt are just perfect!
If you could afford anything and everything, which designer brand would you covet?
Chanel: such a classic designer for so many years. Everything that is designed by the Chanel fashion house will always be in style for years to come. From their classic black sunglasses to the black quilted purse to Chanel No 5. Chanel will always be a classic brand for years to come. I will always covet my Vintage Chanel purse and pearls that my grandmother left me when she passed almost ten years ago.
Must have closet staple?
First a great pair of jeans. A pair of jeans that allow you to move and be comfortable if you are sitting down all day watching a movie or football at the bar to going out shopping with your girls and lots of moving around. Second: a wonderful purse. It doesn't mater what brand, color, and or style. Something that is your personality and you can make sure you can work it wherever you are.
Favorite kind of shoes (brand or type)
Casual: Men and or Women top sider Sperrys. I have been wearing Sperrys since I was on a baby. If you every go to my parents house you will see my dad has 2-3 pairs, mom a pair or two and my brother and I a pair also. Sperrys have always been a part of our family. Now I have Bryan wearing them also. He has accumulated two pairs of Sperrys, top siders and also sandals. And for me and great pair of flip-flops. I love my sperry flops but I am in love with my Rainbow flops. They are some of the most comfortable flops that I own and I feel that they last for years. I have had the same pair for almost 4 years and wear them every day after work and or on weekends. I would highly recommend them to anyone in the market for a great leather flop.
Best clothing deal you've ever gotten? (sale or amazing find)
The rehearsal dress I bought for my best friends wedding. It was a purple Jessica McClintock dress that I found in a small boutique store in Athens, GA. I had been in search for a dark color dress all summer long for Ellen's Wedding. It was originally marked for $350.00 and since it was last fall's it was marked 75% off. Since it was just a plain purple dress I had it custom beaded around the neck line for a little detail. With the custom beading and dyed flats I ended up leaving the store with $150.00 total. I still smile thinking of the deal that I got for one of the most important day of my best friends life.
Style you'd love to try?
1) couture dresses - they all look so wonderful on the models but I do not think they will ever look good on me especially a wedding dress!
2) Scarf's. When I see all the celebrities wearing them I always think wow, thats wicked cute. But when I try and tie mine up like theirs it never looks as cute as it should
3) Hat. I do not care what kind of hat it is. Hats look awful on me. I wish I was able to throw on a hat, put my hair up and it look cute!!
This was such a fun link up! I cant wait to do next week's especially since it is about TV and I have plenty of guilty pleasures when it comes to TV and Reality TV!
Have a good Sunday Everyone! Be Safe this Fourth of July Week!
-LA!