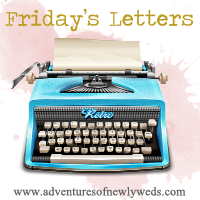 Happy Friday the 13th everyone! Once again I am linking up with
Ashely
with her Friday's Letters. This is one of my favorite link-ups that I try and participate in as often as I can.
(PS there is a little bit of venting in this one... sorry)
Dear Friday the 13th: Please be kind to me on this last work day of this past crazy week and my travels toady.
Dear Weekend: I know you are going to be a busy one but please make it an easy and stress free one!
Dear Ms. AG: Happy 3rd Birthday, I cant believe what a little lady you are turning out to be, I can not wait to see you on Sunday for your party!!
Dear Men that I work with: How hard is it to change the toilet paper or paper towel roll once you are done using it! I am sure your wifes and or girlfriends make you change it why can't you change the roll at our place of work!?!?
Dear Complainers/Freeloaders:

I am sick of listening/hearing you BITCH about how poor and or broke you are. But then have the extra cash to go out and spend all your money on dumb crap like coloring books, movies, fro-yo and big screen TV's. I am sure we the people are the ones paying for your EBT because you do not want to work a real job! Grow the hell up, get a real job and act like an adult!!!
Dear Direct TV: I am not upset that you and Viacom are still battling over their stations. (I may of been when I was the age of 14-24) but I am thanking you for making your 20 million households that use Direct TV just a little bit smarter because they can not watch shows like "Jersery Shore" "Mob Wives" and other crap television (and believe me there is a lot of crap TV, i got suckered into RHNJ last night for 3 episodes and felt my brain cells floating away). I hope that these young people and others who watch that crap pick up a book; read; and use the brain the have in that head of theirs!
Dear Justin Timberlake (my car): You really did bring SEXY BACK!! I love the extra sparkle you have now that you are painted and new looking!
Dear Mom and Dad: Your the best, thanks for having me over for dinner Tuesday night, it was good just to hang out the three of us and let my Only Child Syndrome kick in!
Dear Bryan: Thank you for listening and being there for me and taking me to Jackson's on Wednesday. I can not wait until family day this weekend and our day trip to Savannah! It is going to be a GREAT weekend
I hope everyone has a great weekend!