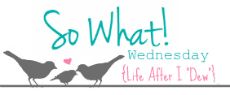 Hey Y'all. This is my second time linking up with "So What Wednesdays" with
Shannon
. This is one of my favorite link-ups that I try to participate in ever week. I do not have many things that I am so whating but the things I do are all are related to one person.
(hoping she doesn't read this, but I am sure she is and I hope she realizes that it is about her)
This week I am saying so what if...
Your jealous of what B and I have and the things we do together.
Every time I go into Coach I end up buying something.
I am pretending to be your friend right now
Your jealous and will not admit it to me: but you will admit it up and down to others.
I know you tell "her" everything that I have said to you. Your a mean girl because of it!
That blog about friendship attempts is about you; I was told to write it to get things off my chest!
My venting is done about that mean girl. Now to finish my day and have a great dinner at Jackson with Bryan!
-LA!