Attempting my first link up ever with
http://www.lifeafteridew.com/
. I hope that my attempt is not a failure.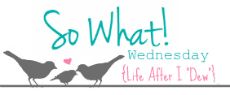 If I have already planned the next four months of my life
If I offend anyone on what I write about in my blog's. It is my blog if you do not like it change your actions and you wont seam like such a witch
That I was on the phone with my best freind until 2am last night. It was the best conversation i had with anyone all day let alone week
That i still think about the past and what I do not miss about it.
If I am that much happier with out you!
I will be skipping out on the gym for the rest of the week
If my b/f spoils me, get over it I like nice things!
That i want to see Magic Mike just for the guys (what girl doesn't lets be honest)
What are you "so whating" this Wednesday!
-LA