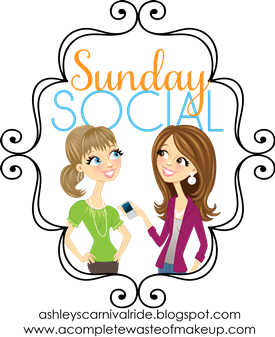 Happy Sunday Y'all.
This is a sad weekend for me. It is the last official weekend of any type of football besides the Superbowl. Hoping for a BIG Falcon's win this afternoon. But before football starts, I am so excited that this is the first Sunday in months that I am able to participate in Social Sunday with
Ashley
and
Neely
. This week questions are top 3's, and I love lists and hopefully I can only keep it to three.
Top 3 Favorite Kinds of Food
:
Seafood - Mexican (it's a tie)

Sushi
First 3 Things you do in the morning:
Check my phone (Facebook... Twitter... you know the important things in life)
Start the coffee marker

Brush my teeth
Last 3 Things you do at night:
Usually talk to Bryan
Take my medicine
fall asleep to the food network
3 TV shows you NEVER miss:
Criminal Minds
Pretty Little Liars
Big Bang Theory
3 Places you want to visit:
Australia
New Orleans (we are going Nov 2013 for my 30th birthday)

New York City during Christmas time
3 People you can always count on:
My Parents
Bryan

Ellen, Jen and Kelly (since we are on 3's)
Can't wait to read every one's favorite "3's".
GO FALCONS
- Laura