Happy Friday Eve!! Since nothing is going on in the world of Laura. I have been really boring and cold lately (sorry y'all) I am going to be linking up with Amber and
Neely
and
Amber
with "Its OK Thursdays"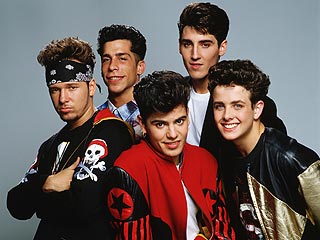 … to be excited that New Kids on the Block (with Boys to Men and 98*) are touring again. NKYOB was my first concert in '89 with Tiffany. My poor dad took me to that concert for my birthday with two other girls when we were in Kindergarten. I am sure that is what started his hearing loss.
… to dream about having a housekeeper when cleaning your house and living in about 1500 square feel alone.
I am not sure how I make such a big mess all the time. And yes, I would love mints on the pillow and a turn down service around 8:30-9:00pm.
… that I sometimes get frustrated with my friends.
… to sing as loud as you can at home when cooking.
… to ask why your milkshake doesn't bring the boys to the yard anymore
… when a man looks your way and smiled to think "yes, Laura's still got it!" (Yes, I told Bryan about my run in at Subway... he just laughed)
… to cry or get teary-eyed when they show some of the background stories on American Idol.
… to want a dog and deep down inside know you will probably never have one. I think I should just stick with fish
… to fall in love with a purse and hope and pray to get it for valentine's day
What are you "Ok" with this Thursday.
TGIF and I can't wait to have a nice slow weekend with Bryan!
-Laura