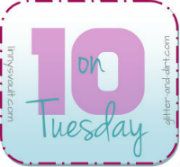 Good Afternoon! This Tuesday I am linking up with Linny's Vault's for 10 on Tuesday. It's been a Pandora/semi-slow day at work so here goes nothing!
2. My new I-phone and case. I finally joined the cool kid club
3. Emailing Kelly. I am glad that we have modern forms of communication between us.
4. It's official next week I will be starting couch to 5k. (If anyone knows a good app on the Iphone please let me know!!!)
5.
Today's Country and Angie Aparo
station on Pandora. I could go all day listening those stations.
6. This morning I found my college old favorite pair of earrings. I thought I lost them in the lake a few summer ago. Low and behold they were in the box where they should of been. (my mom would of be proud I put something back where it belongs)
7.
Jolly M-F'ing Ranchers!! I am addicted!
8.
Kimya's
baby. (rant please watch out) I am so sick and tired of hearing about this baby! I will admit I do watch Keeping up with the
Kardashians
when its on re-run or its a slow weekend on TV. But I feel so bad for
Khloe
. She is the only one of the three older sisters that "did it right" (got married first) and she can not get
preggers
. God sometimes has some serious plans for people.
9.
Knowing that I get to see my BFF Rose this weekend makes me happy
10.
Miranda Lambert
"Mama's broken heart"
I wish I had heard this song about a year ago. It would of been my theme song for a certain person. - (There is no official video, but I love the song!!
)
Hope everyone enjoys my 10 on Tuesday. What are your favorite things that are going on this week??
-Laura