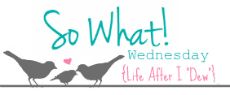 This Wednesday I am linking up with Shannon with her "So What Wednesday". I like to think of this link-up as a release for how I am feeling and the people and things that are bothering me. Hope not to offend anyone like I did the last time I link-ed up on Wednesday.
This week, I am "SO WHAT IF..."
* If every Saturday from Labor Day until the Saturday after Thanksgiving is booked with a football game. I can not wait and so excited about it!
* I love going to the dentist and ready to get my cap put on my "fake" tooth. I know I complained about a few days ago, but I find it to be very relaxing.
* I am not going to my 10 year class reunion. I really do not have much in common with any of those people anyways. And the ones I do I talk to or see a few times a month!
* I really want someone to plan something nice for my birthday. I know I am getting older and birthdays are not something that should be a big deal, but I would (just once) like to be the center of attention. If you all knew how many bridal showers, bachlorette parties, baby showers, engagement parties and or birthday parties I have thrown the past 3 years you would understand. I also don't think I will ever have my turn with any of those types of gathering with friends, so a birthday party is all I ever will get to look forward to.
* I planned my lunch rotation this week around Chick-fil-a Appreciation day... Get over it that a privately held company has beliefs and values that are different then yours. If you do not like it they just don't eat there! If you knew about all the money that company has put into Georgia Colleges (UGA, GA State, Kennesaw and GA Southern; yes I did take a few business classes in the Chick-fil-a classroom in college and ate there like every student that went to a Georgia College with my meal plan, because it was the only "non cafeteria" food we had!). Oh and by the way you may also not want to shop at Hobby Lobby they have the same believes that Chick-fil-a has, and they play Christmas Music during the Holiday season and are not open on Sunday!
* I really really don't care what you think of me. Low and Behold, I won. So keep tweeting and facebooking me the nasty things. Karam will end up biting you in the ass. If I really wanted to I could probably take your butt to jail for harassment.
* I am already coasting to the weekend. I had a short week last week and next week I will be at work for three days! BAMA HERE I COME!
* I am glad that I have a wonderful support system that loves me and has my back for everything. Your just jealous that I have a good people around me at all time and you don't have anyone.
* My Alter-Ego comes out while I am in Alabama. And If anyone see's that a Hannah Montana imposter gets arrested this weekend please start a bail fund for me.

Well I think that is all I have for a Wednesday Afternoon. I am sure as the day goes on more frustration will build up and I can have a So What Wednesday Part Duex!
Happy Wednesday Y'all! Enjoy It!
-Laura