Happy Friday All! Hope that everyone is having a great day and is ready to start their weekend! Today I am doing a double link-up with Ashley with her
"Friday's Letters"
and http://fivecrookedhalos.blogspot.com/ with her "Five Questions Friday" . I hope that everyone enjoys and has a great weekend!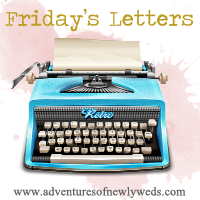 Dear 3 day work week
, I think every week should be only 3 work days and 5 fun play days!
Dear Work,
I love you and love my job, but please slow down just a tad... I just want to catch up a little (and no its not because I was out for 2 days)
Dear 10 year reunion,
I am not really that up-set that I am missing you. I am sure it would be nice to see some people but the ones I want to see are the people I see at lease 3 times a month.
Dear Pandora,
I am still in love with 90's pop and 90's alternative.
Dear Bryan, I can not wait to have a slow next few weekends with you until football season starts!
Dear Georgia Tax Free Weekend,
Thank you for coming on the day that I paid off my credit card. (I'm sorry bank account)!
1. T
hunder storms- love them or hate them?
Love them, especially when I can sit out on the back deck and watch them come over the lake
2.
Do your kids get back to school clothes -
Kids... no kids, but Bryan and I get "back to work" clothes since it is tax free weekend this weekend!!
3.
Do you golf? Do you watch it? -
No, I do not golf... but I do enjoy watching the major events like the Masters
4.
Showers or baths?
Showers
!
5. W
hat's the strangest meal you ever ate?
When my mom and I were in China we ate a a local restaurant that she eats at all the time when she is over there for work. And just the whole atmosphere in the restaurant was odd, fish and sea creatures in the middle of table and pond in the restaurant, animals running around on the floor and it was only "American's" that were inside no "locals" and it was totally off the beaten path in Beijing.

Happy Friday!
-Laura