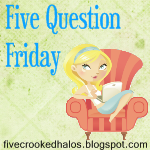 Found this link-up with
My Little Life
while surfing the web and thought I'd take advantage of a new link up!
1
.
What is a must in a hotel room?
Fridge. I don't need one with the little frezer part on top, just something to keep some water, soda, adult beverages and or left over food in.
2.
Which Olympic event would you be best at?
Maybe Swimming (I love to be in the water and I use to do swim-team in high school) or something in the water; But if it was the Winter Olympics CURLING (I am obsessed with that sport)!!
3. W
hat's your stance on the Chick-fil-A subject?
I was raised in the South, grew up in the Catholic Church, ate Chick-fil-a at lease 2x a week in college (accepted meal plan where I went), and I do support gay-marriage (I believe that if you love someone that much and want to spend the rest of your lives together you should be able to, no matter your sex, race and or religion) But I believe in free speech. I do think that if you are a private company you are able to run and open your company how you want to. That is a reason you are private. Those who do not agree with Chick-fil-a can just stop eating their delicious chicken sandwiches and nuggets and also stop shopping at Hobby Lobby and eating Tyson Chicken at their house because those companies also are closed on Sundays and have traditional christian values.
4.
One thing you said you'd never do as a parent, but totally have?
Not a parent to a human and or fur-baby... But I am seriously thinking about getting a fish and letting it swim havoc, stay up late talking to Scuba Steve, and eating flakes all day... I know I am a crazy lady!!
5. W
hat's the weirdest thing you've ever found at a yard sale?
I am not a yard sale person, but I would think that finding someones used under garments would be odd... Even thinking about sending your old under garments to goodwill gives me the willies!
ONE more hour until I am off and on my way to Alabama until Tuesday!
-Laura