It's the last official football Sunday. Labor Day weekend 2013 can not come soon enough with the start of college football and the start of Georgia Southern and UGA football! This Sunday I am linking up with
Ashley
and
Neely for Social Sunday.
This week questions are all about 2's.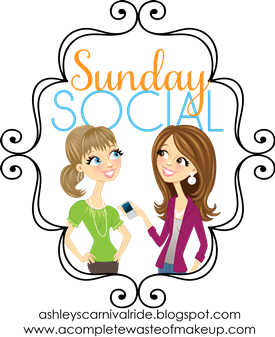 1. If you were stuck on an island what are the two material items you would want to have?
3

. If your house was on fire what two things aside from family, pets, etc would you grab?
a). My parents made an "about me box" (Its a glorified baby's book) for both my brother and I. It has a little bit of everything in there: My adoption notice from news paper, 1st birthday cards from both my grandmothers who are no longer with us and all other relatives and friends, the banner that was printed (dot
matrix on the tractor feed printer) that was put up in my dad's office when the adoption was final. (I was adopte
d at the age of 1ish week old). Old photos of my mom and dad when they were kids to when they got married 37 years ago and the most important my first piece of Tiffany sterling sliver the rattle both of my grandmothers gave to me when I was born. I now have it in my house and would be heart broken if I lost all of that sentimental objects because one day I would like to show it to my own kids if that is in the cards for me.
b). Non-Digital Photos. The photos of yourself as a child or photos that had been given to you from a loved one that is no long with you. The photos that you look at when love ones die. I have just recently acquired some photos of my mothers side of the family, Some of them are photos that were dated from the mid 1910's, photos of my grandmothers wedding, my mother's prom, college graduation and wedding to my dad.
4. What are your two most favorite articles of clothing?
a). My Georgia Southern away game shirt. Its just a standard T-shirt, but it has the GSU flag on it and it says Blue and White forever. I wear it to every GSU away game I attend and so far in the past 6 years I and 15-3 while wearing the shirt
b). I have a pair of mens Polo pajama pants that are about 5-6 years old. They have been broken in and perfect in every way. I know that that the pants have seen it's better days, but when it comes to having a girl's night, watching movies, eating popcorn and drinking wine with your bff's nothings better then a comfortable pair of PJ pants.
5. What two movies that you saw in the past year would you recommend to us?
b). The Dar
k Knight - I am usually not into superhero movies, but The Dark Knight kept my imtrest the whole movie. We also made a weekend of it and watched the other two movies (Batman and The Dark Knight) that go along with the trilogy and they were all good.
6. What are your two biggest guilty pleasures?
a). Trashy Reality TV shows.... like Honey Boo Boo, Real Housewives, Jerseulicious etc....
b). Cupcakes - For some strange reason I like to try all different types of "gourmet" cupcakes. The best one so far was from a bakery outside of Virginia Beach and it was a white cake with a bacon and maple cream cheese frosting. There is some
thing about a mini cake and being able to try wild flavors puts a smile on my face.
Happy Sunday and to whatever team you are cheering for good luck! But I will be cheering for the commercials and the referees! Cant wait to read everyone's blogs on the "Social Sunday" link up!!
-Laura